We are delighted to announce our on-line change and resilience mastermind groups for purpose led founders, leaders and their teams.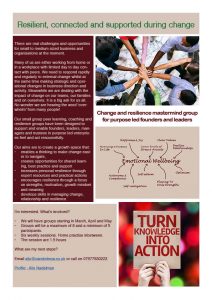 There are real challenges and opportunities for small to medium sized business and organisations at the moment
Many of us are either working from home or in a workplace with limited day to day contact with peers. We need to respond rapidly and regularly to external change whilst at the same time making strategic and operational changes in business direction and activity. Meanwhile we are dealing with the impact of change on our teams, our families and on ourselves. It is a big ask for us all. No wonder we are hearing the word 'overwhelm' from many people!
Our small group peer learning, coaching and resilience groups have been designed to support and enable founders, leaders, managers and trustees in purpose led enterprises feel and act resourcefully.
Our aims are to create a growth space that:
enables a thinking to make change easier to navigate,
creates opportunities for shared learning, best practice and support
increases personal resilience throughexpert resources and practical actions
encourages resilience through a focus on strengths, motivation, growth mindset and meaning
develops skills in managing change,relationship and resilience.