Lindsay and I have worked together since 2011. What started as a goal to return to work after the long recovery from brain surgery, led to a real discovery of what her passions, interests and experience could lead towards. A life review too and a location move. An application for a prestigious Vodafone World of Difference Competition which she then won!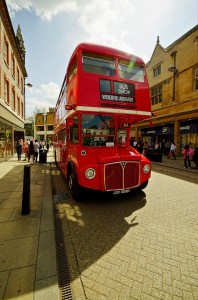 Winning four months of funding to run a project for Headway, an organisation that helped her in her recovery from the effects of brain tumour and surgery.
A truly inspiring person Lindsay has launched and is running the Headonist Pop Up Shop in Cambridge for Headway and we will be supporting her all the way.
And what about the big red bus? The Headonist Pop Up shop had it's first pop up on a big red bus in the centre of Cambridge!
Being a coach is a privilege, a chance to work closely with someone as they make and achieve their goals, generally because of confidentiality we never talk about what happens in those relationships, so I'd also like to send a big thank you to Lindsay for sharing her story.